December is a time of year when we love to travel in Europe. Seeing the cities sprinkled by the spirit of the holiday season makes for very special traveling moments. The streets are filled with lights and Christmas ornaments, creating a very pleasant and welcoming atmosphere. Christmas markets in Europe have long been a reality and a must-visit for everyone.

Many European cities are taking the initiative to create Christmas markets and fairs where it is possible to feel the holiday culture of each country, taste the delicacies and enjoy some Christmas shopping.

The cold that is felt in Europe at this time is mitigated by the hot drinks of the season and by the inner warmth that we create when seeing the people sharing the love with one another. The children are dazzled by Santa's usual presence in the markets or with the snow that falls in the cities.

The number of Christmas markets in Europe is increasing because there is a lot of demand for it. That's why we have selected the most interesting Christmas markets for us, which can be a decisive factor if you decide to spend a weekend in an European city at this time.

Our list of Christmas markets in Europe consists of some cities we have visited and others that are on our upcoming travel list. Usually we do not travel purposely just for the Christmas markets, but we love the season and we take the opportunity to insert them in the itinerary when we are visiting the cities.
Zagreb, Croatia
Zagreb Advent
Our first choice is the Christmas market in Zagreb which was voted as the best Christmas market in Europe for the third consecutive year.
The Christmas market in Zagreb is impressive by the amount of lighting, food and drinks, concerts, the spectacular ice rink, and a human Christmas crib. Get ready to try hot wine, sausages and some gastronomic surprises.
Usually, at this time of year, it is very cold in Zagreb, but the atmosphere, the music and the warm places will keep you warm during your visit.
Zrinjevac Park
Visit Zagreb
Vienna, Austria
Vienna Christmas Dream
The Vienna Christmas Dream is a Christmas market that promises to be an unforgettable experience for anyone visiting. It is a mix of tradition, culture and attractions that create a unique, magical and special atmosphere at the Rathausplatz.
In this market there is also an ice rink with about 3000m2 and some carousels that delight everyone.
Wiener Rathausplatz
Wiener Weihnachtstraum
Basel, Switzerland
Christmas Market
The Basel Christmas Market on Barfüsserplatz and Münsterplatz is considered to be one of the largest and most beautiful in Switzerland. The streets are filled with decorations and lights and there are several stalls that fill the markets with holiday culture.

There is even a forest of fairy tales, where children can do various activities such as decorating candles.

The atmosphere is definitely fantastic and with over 180 craftsmen you will have the opportunity to buy some different Christmas gifts than usual.
Barfüsserplatz e Münsterplatz
basel.com
Prague, Czech Republic
Trhy Na Hrade Christmas Market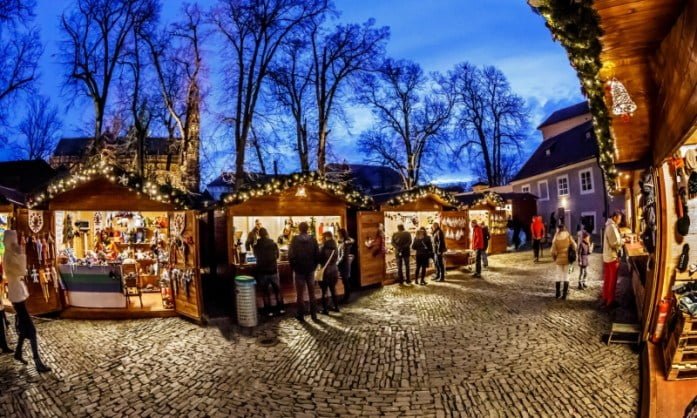 One of Prague's Christmas markets is located in the city's castle complex, more specifically on St. George's Square. The combination of convenient location and choice of products makes this market special.

This event will fill you with Christmas spirit and you can get some Christmas presents there, taste great food and an excellent glass of hot wine in one of the 30 wooden houses there.

If you prefer to enjoy this time with less confusion, this market is ideal, allowing you to avoid the crowds of the market of the old square of Prague.
Prague Castle (Pražský hrad)
Trhy Na Hrade
London, United Kingdom
Southbank Centre Winter Market
There are several Christmas markets in London. We chose this because we liked its proximity to the river. Eating, drinking and doing some shopping alongside the River Thames is special. Here you can find an excellent selection of street food, craft beers, cocktails, and handicrafts.
London Southbank
Southbank Centre
Lisbon, Portugal
Campo Pequeno Christmas Market
The Campo Pequeno Christmas Market is held inside a bullfighting arena that is now also a multipurpose space for concerts, markets, and other shows. The arena is covered, therefore, regardless of the weather, you can always visit this Christmas Market.

In this market, it is possible to find jewelry, books, clothing, ceramics, toys, and art. There are also always some stands with typical food of the season.
Praça de Touros of Campo Pequeno
Campo Pequeno
Wonderland Lisboa
Wonderland Lisboa is a Christmas fair that takes place in the Parque Eduardo VII, right in the center of Lisbon. In addition to a ferris wheel and an ice rink, there are several stands selling food and crafts.

Due to the setting of the park, from the top you can see the whole fair and also Liberty Avenue full of Christmas lights.
Parque Eduardo VII
Wonderland
Barcelona, Spain
Fira de Santa Llúcia
The Fira de Santa Llúcia takes place during the month of December since 1786. This market, that takes place in Avinguda de la Catedral, has more than 280 stands with all the traditions of the season.

At this fair, you can find crafts, food and drinks and of course all the holiday decorations that make us enter the spirit of Christmas. There is even activities and events, especially for children.
Avinguda de la Catedral
Fira de Santa Llúcia
Hamburg, Germany
Christmas Market
The Hamburg Christmas market takes place in the town square (Rathaus) and is one of the most well-known markets in Germany. Here you can sample sweet almonds, gingerbread, walnuts and hot wine (gluehwein) created especially for this market.

There are also craft stands where you can buy some typical souvenirs of the region and a carousel for children.

Daily, Santa Claus sleigh takes flight from this market.
Rathaus
Hamburger Weihnachtsmarkt
Winter DOM
The Winter DOM in Hamburg is a huge fair with several attractions in Heiligengeistfeld. This event, which usually takes place during the month of November and ends at the beginning of December, anticipates the Christmas spirit by bringing us everything that is typical of this season: traditional delicacies, hot spicy wine, crafts and of course the usual amusements and carousels that delight not only the children but also the adults.

Near the DOM, in the Große Wallanlagen park, there is a complex with an ice rink (EisArena Hamburg).
Heiligengeistfeld
Hamburg.com
Amsterdam, Netherlands
Ice Village
The Ice Village, Amsterdam Christmas market, takes place in the Museumplein and has several stands that sell clothing, accessories, holiday items and holiday gastronomy.

At this time of year, that area becomes a Christmas village with various attractions, events, and an ice rink.
Museumplein
IceVillage
Lyon, France
Christmas Market
The Lyon Christmas Market in Place Carnot is a small holiday village with more than 140 wooden houses selling typical items of the season, such as festive food, handicrafts and Christmas presents.
There is a very cozy atmosphere in that town square. The specialty here is the hot wine made from spices, chocolates, and melted raquelete cheese sandwiches. With all the holiday decor, the atmosphere there is simply wonderful.
Place Carnot
Lyon
---
If the holiday season appeals to you and you want to explore a Christmas market of some city, to try the gastronomy or to buy some different Christmas gifts, we advise you to choose one of these destinations and not only take advantage of the city, but also take some time to live this experience.

There are a lot of people looking for visiting the European Christmas markets so prices for traveling usually increase at this time of the year. If you want to visit one of this Christmas markets, book your trip as soon as possible.
---
---