Istanbul is a city in which its location and history have contributed to the creation of a very varied and interesting cuisine which makes choosing what to eat in Istanbul always a great experience and a constant discovery. The flavors, colors, and spices you get when you try some typical Turkish dishes make the experience worthwhile.
In our travels, we always pay close attention to the food, and our trip to Istanbul was no exception, so see below the 10 food experiences that you cannot miss in Istanbul.
As Istanbul is the place where east and west meet, its cuisine is also influenced by this fact. There is a lot of oriental in Turkish cuisine, but you can also find European ingredients and methods, such as traces of Greek cuisine.
Check here our posts about our 5 days in Istanbul (with the itinerary and some tips to visit the city) and about Inqlusif, the hotel we chose to stay when visiting the city. Check also our post about the 10 experiences you can't miss while visiting Istanbul.
Turkish Breakfast
Breakfast is the most important meal for Turks. Even in everyday life, it is varied and includes various products such as bread, cheese, eggs, fruits, pancakes, and vegetables. It is a very complete meal which for us serves as a brunch due to the amount of food that is served. It is impossible to talk about what to eat in Istanbul and not start with breakfast.
In Istanbul, there are many restaurants serving this meal. We opted for Café Privato because we had excellent references about the quality of the breakfast they serve and in fact, it came to be confirmed. It is a 15-course meal that you can complement with a natural fruit juice or a hot drink. In the end, they offer a çay (typical tea).
Meze Meal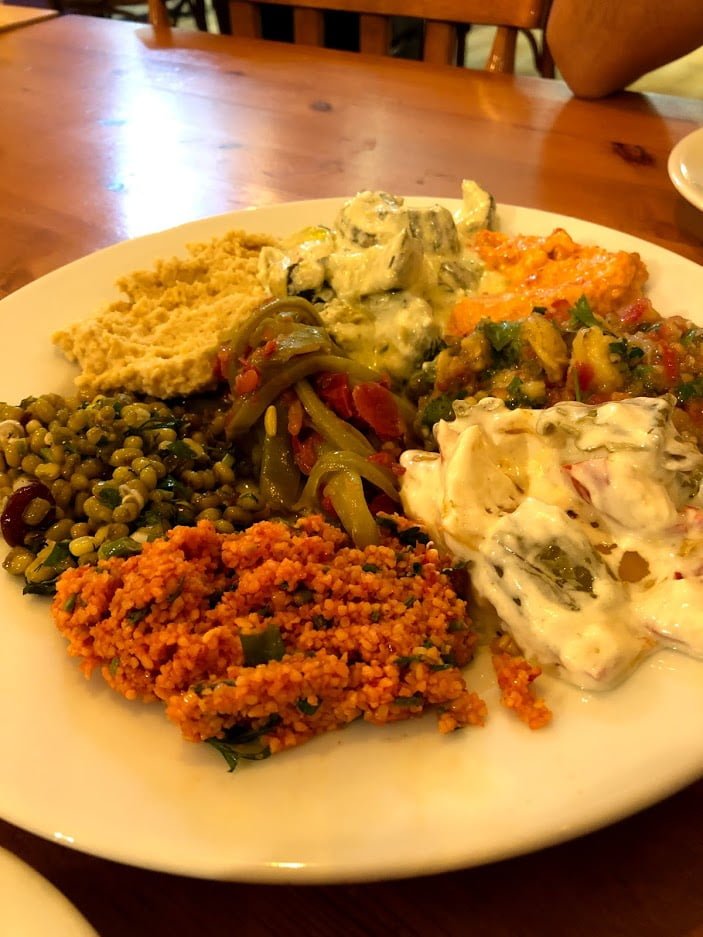 Meze is a meal that resembles tapas or snacks. Several small portions of food are served. Normally the dishes are vegetarian and cold and you can complement your meal with a hot dish after.
At Inqlusif Hotel's recommendation, we visited Galata Kitchen. It's a simple, family-run restaurant, run by the younger generation, but the recipes and cooking are still original.
We ordered a large plate of Meze at the employee's choice, and it came with various portions on the same plate. We shared and it's more than enough for a meal for two. We liked the place and recommend you try it to taste authentic Turkish food when you are looking for what to eat in Istanbul.
Try Baklavas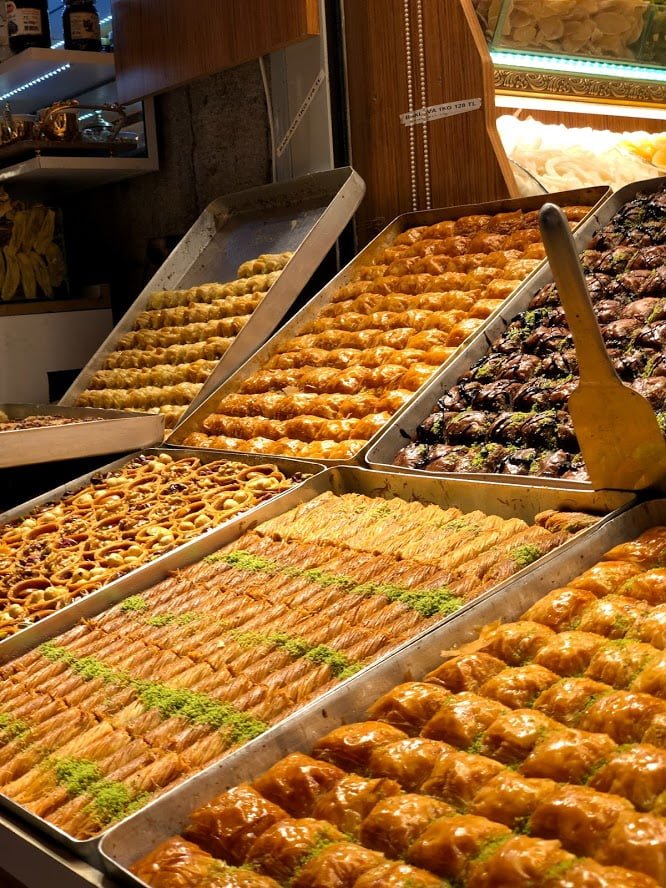 Baklavas are something to be found almost everywhere in Istanbul. It is a typical sweet made of layers of a very thin pastry with nuts in the middle, usually pistachio, and a syrup of sugar. They are extremely sweet and go well with a çay (Turkish tea). Nowadays there are many varieties that include, for example, other nuts and chocolate.
We recommend Develi Baklava or Efezade Baklava to try this Turkish delicacy.
Eat Lentil Soup
Lentils are a legume very present in Turkish cuisine. It is normal to find it in salads, stews, and soups. Lentil Soup (Mercimek Çorbası) is found in almost every restaurant and is simply delicious. It is made with orange lentils, is usually a little spicy and is complemented with freshly squeezed lemon juice. We ate an amazing one at the House of Medusa Restaurant.
Try a Dürüm
When talking about Dürüm the first place that comes to mind is Istanbul and a very specific place, the Dürümzade. It is a small restaurant specializing in the art of making Dürüm. There the kebabs are grilled in charcoal and the very thin bread is also placed to heat in the fire. It is absolutely delicious and should be part of all the itineraries on what to eat in Istanbul.
There are several types of Dürüm with various types of meat or different seasonings. Usually, the most commonly found are those of very spicy beef (Adana), chicken (Tavuk), beef and lamb mix or non-spicy beef. Dürüms are made only with fresh meat and tomatoes inside, with no room for sauces or garnishes.
In addition to Dürüm, lentil soup and chicken wings are also worth the visit. The products are simple, fresh and very tasty.
Eat fish chosen from the window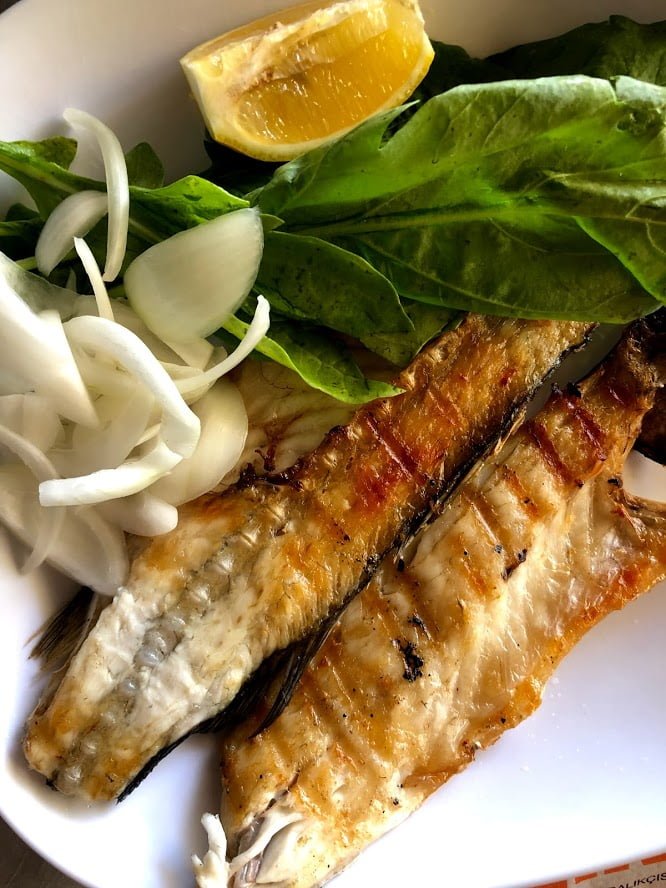 In the Karaköy area, near the Bosphorus, there is a large area dedicated to the fish business. There you can find the fish market, several restaurants serving only fish and some other fishing related businesses.
Being able to pick a fresh fish from a shop window and knowing that it will be charcoal grilled and served with a simple salad is a worthwhile experience in Istanbul.
We chose Akın Balık which enjoys a prime location overlooking the Bosphorus. The restaurant is actually a large covered terrace that looks like a garden. We recommend that in addition to the fish you order a typical salad as a starter or as a side for the fish. The squids are also delicious.
Delight yourself with the Lokmas
The Lokma is something that is increasingly appearing in the city. Originally they are fried dumplings, but now they begin to be stuffed with chocolate and take several toppings. We tried this dessert at Lokma Karaköy and it was a great experience because they were cooked at the moment.
This is very similar to the Lokomades that can be found in Greece.
Visit one of the city's modern and cozy restaurants
Istanbul is increasingly a modern city, and restaurants that have been modernized or vacant places that have been turned into trendy places are increasingly appearing. Given the number of people who live in Istanbul and the number who visit it daily, the catering market is rising.
An example of one of these restaurants is Aheste Pera. It's a place with few tables and you really have to make a reservation to get a place to dine. When we visited we booked at least 3 days in advance. In Aheste, you'll find Turkish cuisine dishes reinvented with mouth-watering flavors. You can choose from the à la carte service, but we recommend the multi-course tasting menu. It also has an excellent selection of wines and cocktails.
It was our favorite dining experience and we couldn't help but include it in our what to eat in Istanbul tips.
Try One of the Traditional Cheese Puffs – Borek
Borek is a multi-layer puff pastry with typical Turkish cheese. Turkey has a tradition in cheese production and consumption, which can be found in much of the cuisine. Boreks are delicious and can be found in almost every restaurant and café.
Try a Simit at Street Vendors
One of the things you see most in Istanbul is Simits street vendors. Simit is a kind of bagel, but thinner, more crispy and in its original version with a lot more sesame seeds on the outside. We like Simits plain, but it is also very typical to find them with cheese or chocolate cream.
Vendors are positioned at the passing places with a trolley and a simit usually costs around 1.5TL. They are great when you want to grab a quick snack while exploring the city.
---
Visiting Istanbul has helped us increase our knowledge of Turkish cuisine, which is well worth a try and should be known by everyone visiting the country. Ingredients, spices and cooking methods make the dishes special, colorful and very tasty, so be sure to try the local cuisine and try to avoid the restaurants and dishes you can find around the world when looking for what to eat in Istanbul.
---
---