Packing for a trip is not always the most fun task. Usually, we think that the amount of things we take is never enough, we end up taking the full bag and when we return we find that we have not used everything we took. Figuring out your luggage for a Round the World trip is a crucial point when you are preparing your adventure.
On short trips, this is not a problem because the effort of carrying the luggage is not significant.
For a Round the World trip for 6 months, your most frequent traveling companion will be your luggage. So whenever you have to make the decision to pack something, think about whether you are going to use it or not, and whether it is worth taking. Do not forget that the fewer things you take, the lighter your luggage will be, and the lighter it is, the more you will want to continue your journey.
What kind of bag should I choose?
The choice of the bag is a very important point. Choosing a good bag that suits the type of trip you are going to make will bring you comfort, ease of use, and the space needed for everything you need to take.
When making the decision, you should take into account whether you want a backpack or suitcase. A suitcase with wheels may seem like a good option because it rolls on the floor, but it is less practical when you have to run to catch a transport or arrive at a place with a land path, where the suitcase's wheels will stop working. On the other hand, a backpack will always be on your back, bringing you the agility you need in your day-to-day.
We opted for a travel backpack because we value the following:
The possibility to put it on your back, being part of you during the trip;
It is more practical if you have to run between two planes;
The possibility of having front-loading, which allows you to not have to unpack at each stop;
The possibility of taking it with us as hand luggage;
Space and compartments available that allow better organization and storage;
Will I always want to take my bag with me or send it to the plane's hold?
If on the one hand choosing a smaller bag allows you to always carry it with you on all flights, on the other hand, you are more limited in relation to the space available for your things. On most airlines, the hand luggage limit is equivalent to a 40L backpack. It may not seem like much, but with some storage techniques and choosing only the essentials, it should be enough for a longer trip.
You should not expect to take a lot of clothes, the idea is that you can wash the clothes along the way. Nowadays there are self-service laundries everywhere, or you can even choose to wash clothes manually in your accommodation.
Taking your bag with you, you have the advantage that it will never get lost, everything will always be at your fingertips and you will also be able to choose cheaper rates at some companies since you do not take hold luggage.
If your option is a backpack, it should be prepared to be sent as hold luggage anyway. If your backpack does not include, you can purchase a cover that protects your things when inevitably, due to space limitations on certain flights, your bag ends up having to be sent as hold luggage. In these situations it is important that you have a smaller backpack where you can place all your valuables, thus avoiding having to send them with your luggage. Your backpack should also have security locks that allow the use of padlocks.
You should take all of these factors into account when you are preparing your luggage for a Round the World trip.
For how many days should I expect to pack clothes?
Depending on the type of trip you are going to take, the number of changes of clothes you are going to take in your luggage for a round the world trip may vary. If during your trip you will be in a place where it will be impossible to wash clothes for a few days, you should have that period as a basis for your decision. We will have maximum periods of 1 week when we will not be able to wash clothes, so the plan is to bring clothes for 7 days.
The type of clothes you are going to take should also be according to your trip, but usually light clothes and quick drying fibers are a good option.
Packing list for a round the world trip
This list of items is per person and is only based on our experience, needs and interests.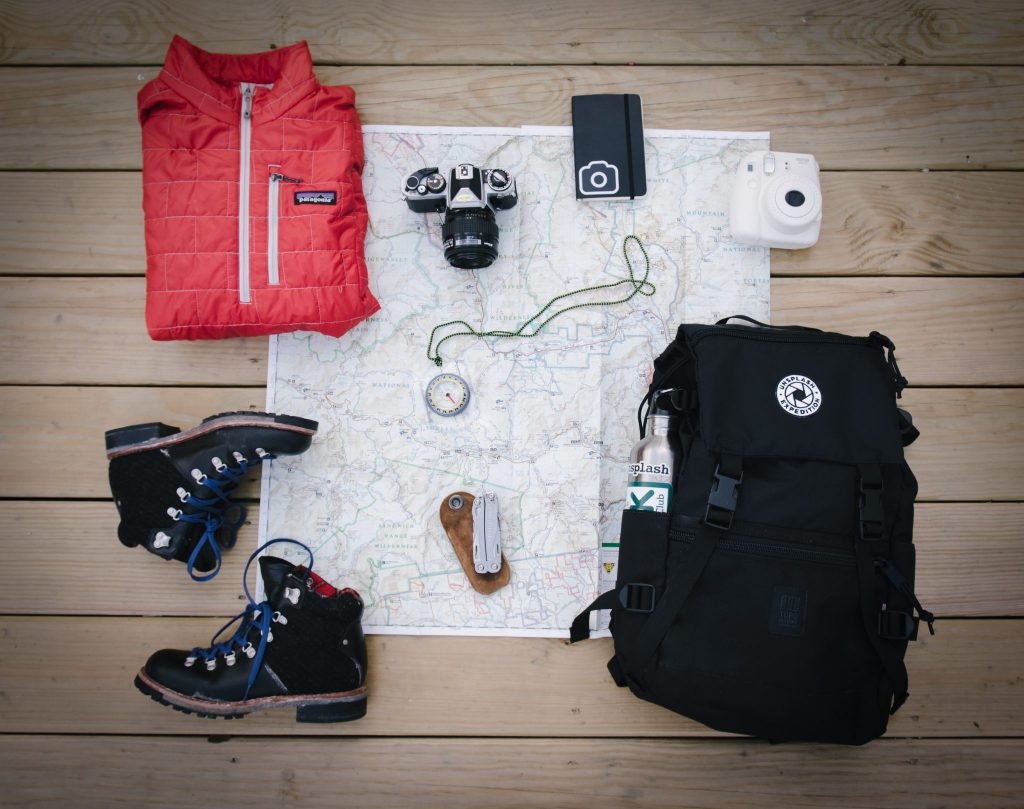 Normally to pack for all trips we use our Packing List to ensure that we have not forgotten anything.
See here how to get your copy of our Packing List.
What clothes to take in your luggage for a round the world trip?
1 spots jacket
1 rain/wind jacket
5 t-shirts
1 swimming shorts e 1 cap
3 shorts (linen/casual)
2 pants/jeans
1 belt
1 slippers
1 shorts e 1 loungewear pants
1 sportswear
1 hiking/running/sport shoes
1 linen shirt
7 boxers
5 small socks
1 sweatshirt
2 socks
Hat
Laundry Bag
Extra Tip – Scarf/Bandana
A scarf or bandana, allows you to protect yourself from the sun or dust if, for example, you are going to ride a motorcycle on dirt roads.
What personal care products to carry in your luggage for a round the world trip?
Toothbrush and paste
Dental Floss
Deodorant
Facial Moisturiser
Facial Cleanser
Sun Screen
Lip Balm
Hair Wax
Beard Products
Nail Clipper
Perfume
Soap
Wet Wipes
Duck Tape
Extra Tip – Microfiber towel
This towel will be useful when the accommodation does not provide bath towels, but also because it can be used as a beach towel. Because it is light and compact, it can be easily washed and dried quickly. It allows you to take a single towel if your itinerary includes a beach.
Extra Tip – Hygiene Products Bag (TSA approved)
It's a tough, transparent plastic bag that helps you avoid, at most airports, having to remove your hygiene products into a normal plastic bag.
What health products to carry in your luggage for a round the world trip?
First Aid Kit
Emergency medications
Medicines for Malaria prophylaxis, Repellent and Mosquito Net
Extra Tip – Pills for motion sickness
For those who are used to getting sick in transport, these pills can save you the day. If you know you are going to go on a boat or take a long car trip, take it according to the directions to ensure that you have no problems on your trip.
What gadgets to take in your luggage for a round the world trip?
Laptop
Tablet
Camera and Tripod
Memory Cards
Drone
Power-bank
Hotspot Wi-Fi 4G
Chargers
Phones
Travel Power Adapter
Extra Tip – Travel Insurance
Normally on a trip of this type, you should not need more than one of these gadgets. If you are traveling with someone else, see with your travel companion if they can share some of the things. In addition, it ensures that your travel insurance covers some of these most valuable objects, such as WorldNomads or Iati insurance. See more information about travel insurance here.
What documents to take?
Passport and Copies
Revolut – Prepaid Travel Card
Credit Card
International Driver's Licence
International certificate of vaccination or prophylaxis
Passport-size photos
Extra Tip – Printed Air Tickets
You must take your printed flight reservations, as you may have to prove at some borders that you have a flight departing from the country. Normally, you can show the digital versions on your mobile phone, in any case, you should always validate the specific rules of each country.
Extras to Pack
Small Backpack
Notebook e Pen
Book
Extra Tip – Document Wallet
A document wallet allows you to keep your travel documents organized. If you are like us who love to keep tickets and tickets as a souvenir of your trips, having a scholarship helps us to keep everything more organized.
How to pack your bag?
There are several techniques for packing your bag. Normally we use the technique of rolling up each piece of clothing, thus ensuring maximum compaction and space utilization. According to the configuration of your bag, you must arrange things so that at each stop you do not have to remove everything and put it back when you leave. For some of the objects, we also use storage bags that help to keep things more segmented and tidy.
---
Preparing your luggage for a round the world trip is a very important step on your journey. In addition to packing your bag for the last few days before starting your adventure, you should plan ahead if you have everything you need to keep in mind nothing essential. Our packing list helps you to plan. Check here how to get your copy.
This is the seventh publication in the series: How to plan an RTW. If you want to know more about planning a trip around the world check out the other publications in this series.
---
---