When we decided to visit Malta and started planning our Malta itinerary, we realized that 7 days would be the ideal time to visit almost everything we wanted and still spend a day in Comino and another in Gozo.
You can find more information about Malta and tips to organize your trip here.

As it happens most of the time, after we arrived in the country, our plan changed constantly. In this series of posts, we will share our Malta itinerary (and other activities we chose not to do but that may interest you) as well as restaurant tips and how to enjoy your time in Malta in the best way. In the first and second parts, we will present our Malta itinerary as well as the extra activities. The third and last part is dedicated to the islands of Comino and Gozo.
Day 1
Valletta
Valletta, the European capital of culture in 2018, was a city that captivated us by the warm and cozy atmosphere it conveys. It is crowded during the day, bursting with life, both with locals and tourists (many cruises stop at the port of Valletta). But at night it becomes a quiet and peaceful city providing great and romantic night walks.
In addition to the city's own atmosphere, which invites you to stroll and relax on the various terraces and viewpoints, there are many interesting tourist attractions such as the Grand Master's Palace, St. John's Co-Cathedral or the Manoel Theater.
Accommodation
We stayed at West Street Apartments. These apartments are located in a 200-year-old building that has been restored, while maintaining its original layout. The location was great but, being Valletta a small town, any location within the city will be good. You can see more information and book your hotel here.
Staying in an apartment allows more flexibility when it comes to meals, also allowing you to manage your budget better. However, on the first day, we opted to look for a place to have breakfast outside. By British influence there are many pubs in the city, so we opted for breakfast at the Café Jubilee which is very traditional and has several options.
Is-suq tal-Belt food market
This building is a market that seeks to bring together in the same place several restaurants of different nationalities, where it is possible to taste some Maltese delicacies as well as food from all over the world. We made several meals at this location during our trip to Malta. On the lower floor, there is a gourmet supermarket.
Upper Barrakka Gardens
We visited the Upper Barrakka Gardens and it was here that we tasted our first Pastizz. The Pastizzi are very typical of Malta. They are a kind of filo pastry, typically stuffed with ricotta cheese or peas, and they are wonderful. There are some more innovative variations, such as ricotta and chocolate, for the more gluttonous. You really have to try them.
It was here that for the first time we were dazzled by the sight of the three cities. In the viewpoint, you can see Vittoriosa (Birgu), Senglea (Isla) and Cospicua (Bormla). On the day we visited this place, the weather was excellent and the reflection of the blue sky on the water, the boats and the coastal silhouette of the three cities created a breathtaking landscape.
In this place, there is an elevator that allows you to go down to the coastal area, where you catch the ferry to the three cities (only the descent is free).
Vittoriosa
We decided to take the ferry to the three cities and go to lunch in Vittoriosa. In the marina area, there are several restaurants with different types of gastronomy. The terraces are very nice and allow you to relax a bit, eat a meal and enjoy the boats docked at the docks. We opted for the Sottavento restaurant which serves risottos, pasta and fresh fish of the day.
During the afternoon, we strolled through the marina to Fort St. Angelo. This site, which served as the setting for Game of Thrones, refers back to medieval times. At this location, you can have a breathtaking view of Valletta on the other bank.
Ferry Ticket: 1,50€ one way/ 2,80€ return
Fort Ticket: 8€
Bus 2 or 4 (from Valletta)
As in most cities in Malta, Vittoriosa has streets and breathtaking alleys to be enjoyed and that is what we did for the rest of the afternoon.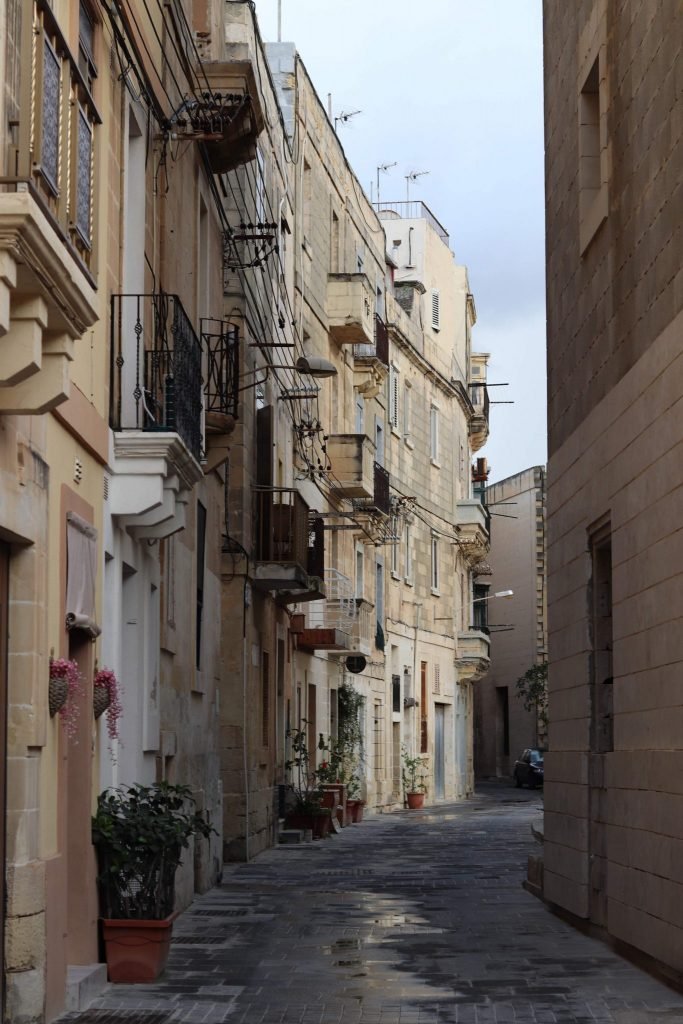 Returning to Valletta by ferry, we dined at Zero Sei, a typically Italian trattoria, with a very friendly and welcoming atmosphere serving absolutely divine pasta dishes. Do not fail to try the Carbonara and if you like to finish the meal with something sweet like we do, we recommend a tiramisu or cannolis that will leave you begging for more.
Day 2
San Julian's
On this day we decided to go to a different area of Malta and take a stroll along the seafront. We took the bus to St. Julian's and visited St. George's Bay beach.
This area is quite different from Valletta with tall buildings, large hotels, casinos, and malls. In this area is also where Paceville is located. Paceville is considered the capital of Malta's nightlife due to the large number of bars, restaurants, and nightclubs in the area. Depending on your age and your interests, it can be a great area to go out at night. We did not visit Paceville at night but went to see the area during the day.
That's how we found Shoreditch Bar and Kitchen and ate one of the best burgers and some of the best pancakes in recent times. We could not recommend this restaurant more. If you go to Malta, do not miss this experience.

Sliema
After lunch, we strolled along the coastline to The Point Shopping mall in Sliema and burned some of the many calories from the burgers and pancakes. This walk is about 4km. We passed by the marina of Portomaso and the bays of Spinola, St. Julian's, Balluta and Exiles. It is very pleasant to do this walk because all the way is done by the sea and there are many places to relax and rest as well as cafes and restaurants.
There are several bus lines connecting Valletta with St. Julian's and Sliema.
Day 3
Marsaxlokk
Marsaxlokk is a fishing village well known for its traditional colorful boats, the Luzzus, and the fish market on Sundays. We visited Marsaxlokk and the Sunday market and even though it was a rainy day, the market was full and it was a very interesting experience.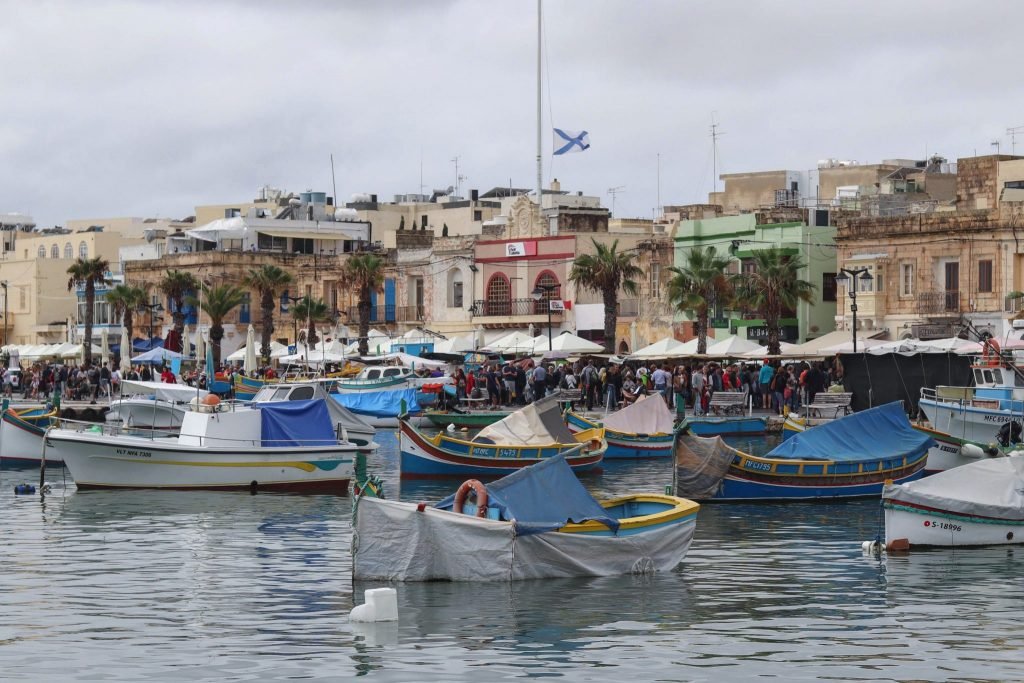 We had fish for lunch (of course!), in one of the restaurants in the village. We recommend visiting Marsaxlokk and experiencing the market.

Bus 80 or 82 from Valletta to Marsaxlokk
Marsaskala
From Marsaxlokk we went to Marsaskala, mainly to visit the salt flats. This visit was very quick because the light rain turned into heavy rain and we decided to return to Valletta. Marsaskala is also a fishing village that has grown to become one of the most frequented holiday areas in southern Malta.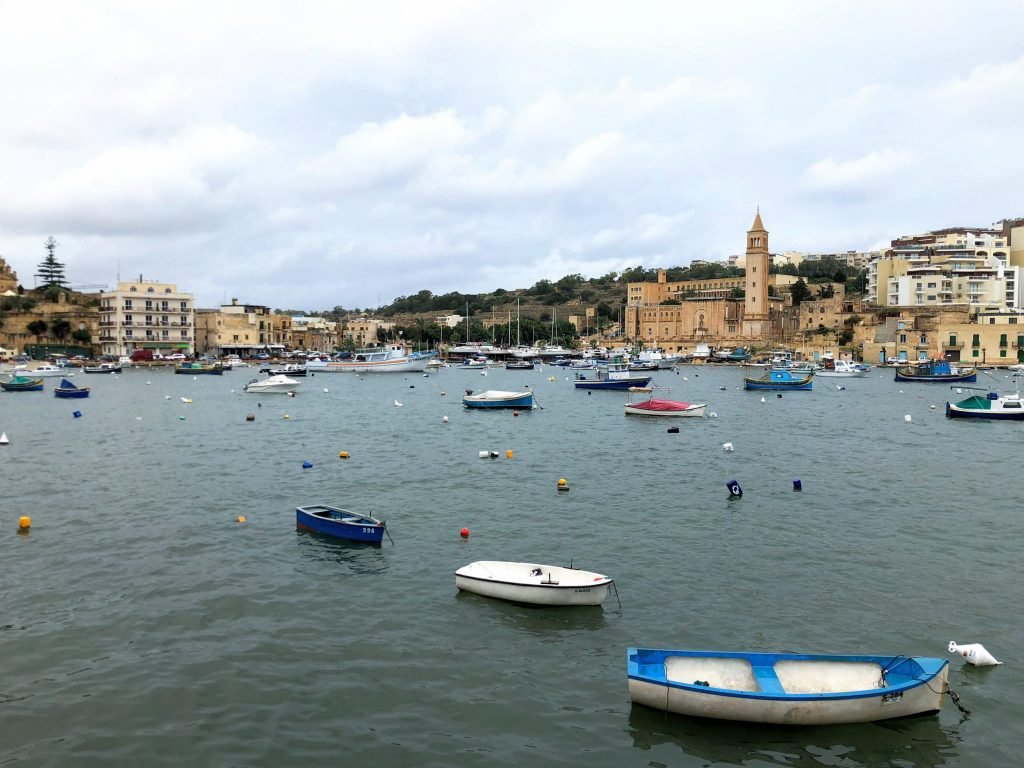 Bus 119 from Marsaxlokk to Marsaskala
Day 4
Comino
We chose this day to visit the island of Comino and it was the day with the best weather on our trip, giving us the opportunity to enjoy the island and the bays. On our Malta itinerary, Comino was always a must stop. We knew that depending on the sea conditions, it might not have been possible to visit but on the day we chose to visit the island there was no problem.
To get to Comino you must take the boat in Cirkewwa. We used Comino Ferries Co-op, which costs 10 euros (round trip). We advise you to leave as early as you can because the bus trip from Valletta to Cirkewwa takes about 1h30 and when we went, the last boat to return from Comino was at 17h. The sooner you go, the more you'll be able to enjoy the day.
Comino is an almost uninhabited island (it only has one hotel, which is only open during the bathing season and has no roads or cars). Walking around the island is an unforgettable experience.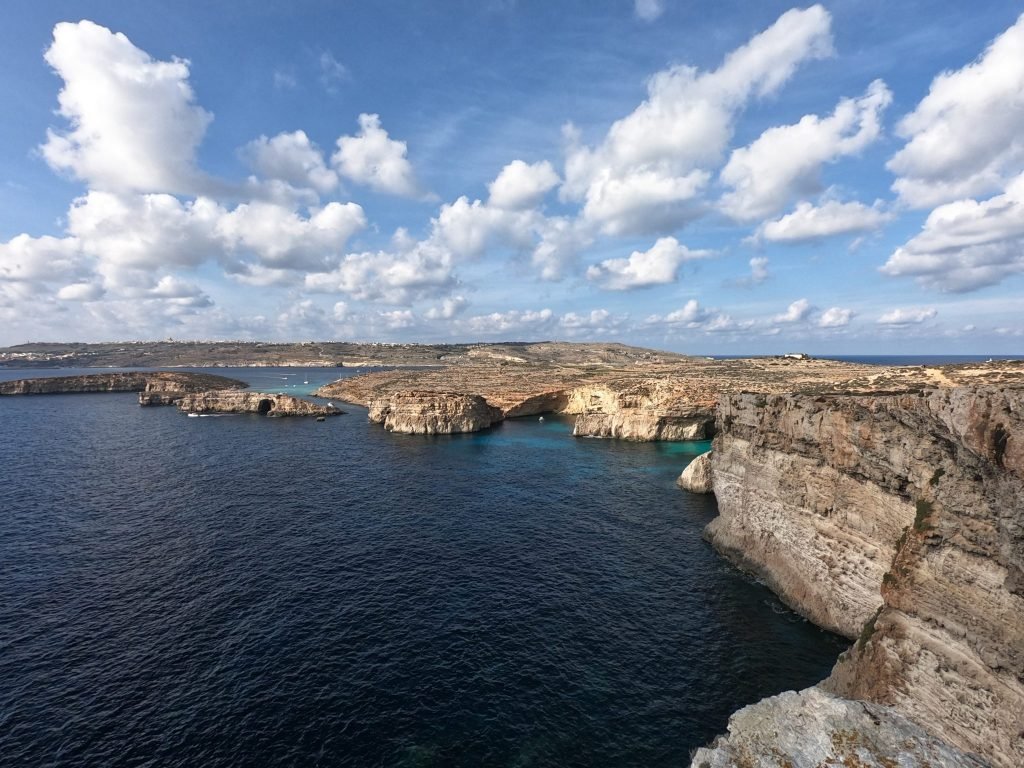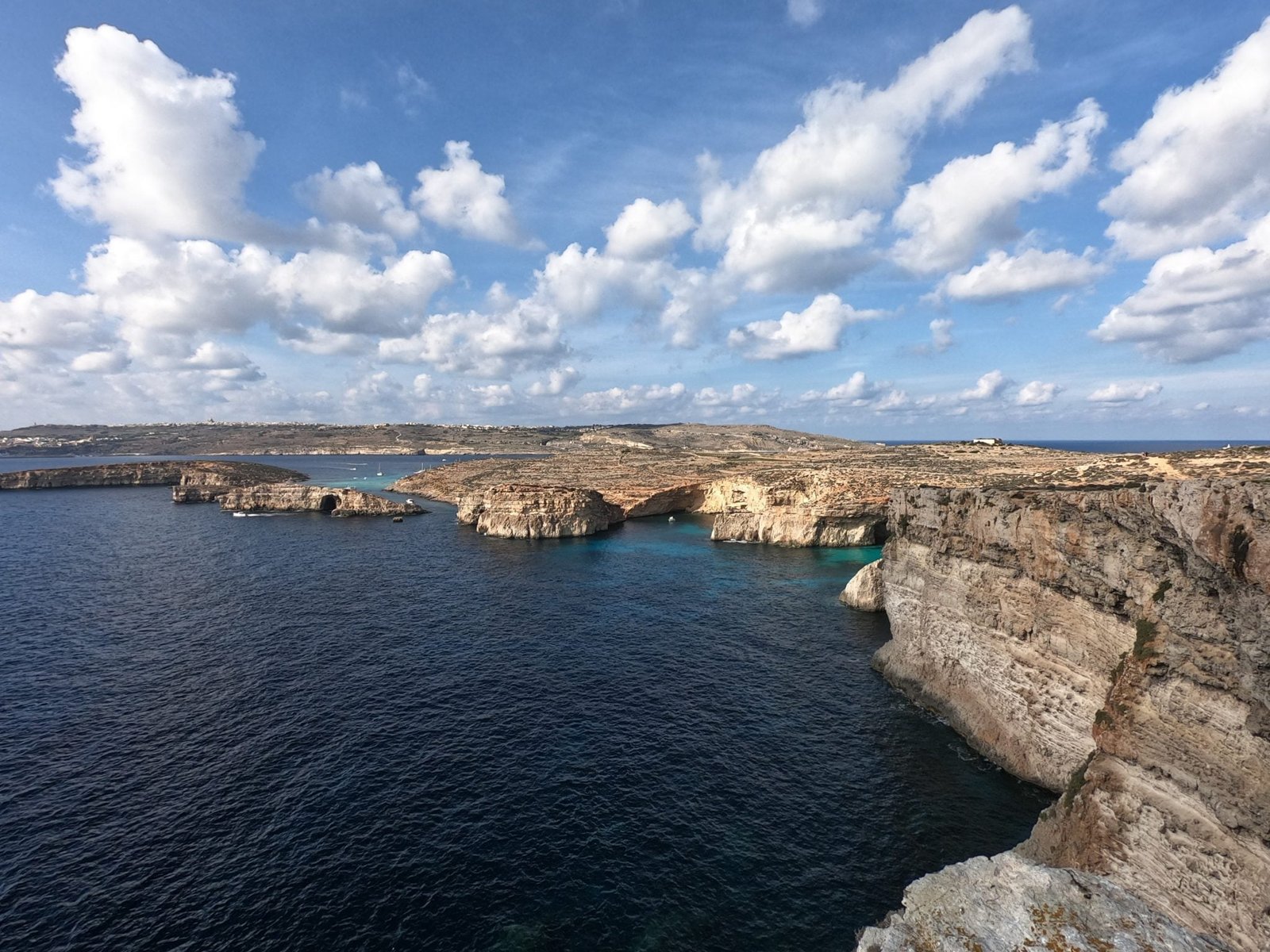 The main and best-known point of interest is the Blue Lagoon but do not limit yourself to just that area of the island. All boats stop at the blue lagoon and it is the only area on the island where you can buy something to eat making this area always very crowded with tourists which can affect your experience. Take the opportunity to walk around and see other parts of the island where you can be much more at ease as if you were on a desert island. Along the island, there are many nooks and bays where you can take a dip and enjoy the sun.
Bus 41 or 42 from Valletta to Cirkewwa
10€ Return boat ticket
You can check more information about our visit to the island of Comino here.

We dined in Valletta, at Il Teatro Trattoria, a truly Italian meal, which we highly recommend.

---
In this post, we describe the first part of our Malta itinerary. We were very surprised and at the end of these four days we were already surrendered to the country. In the following part, we describe the last 3 days of our Malta itinerary as well as extra activities you may want to consider when planning your Malta itinerary. You can check the rest of our itinerary here.
---
---