China is a country that has always been present in our imagination when it comes to long-distance travel. When we decided to visit China in April 2018 we were expecting to like it but we were not expecting to get so positively surprised. We had already heard discouraging reports about the country but for us the experience was great. We were in China for only a week (we visited Beijing, the Great Wall of China, Shanghai, and Suzhou) so we just scratched the surface and still have much more to explore and know about this country and this culture so interesting and so different from ours. Later, in our Round the World Trip we visited Hong Kong. For those looking for a cultural shock like us, visiting China is the perfect option.
Tips for planning a trip to China

Planning a trip to China, when we have limited time, requires some preparation. It is a huge country with numerous points of interest so you should think about your priorities and manage your time in the best way. It is important that you get to see everything you want but that you do it with quality and not in a hurry. That way the experience will be much more enriching. In this post, we will give you some tips that will help you visit China in an unforgettable way.
When we started planning our trip, in addition to the internet searches, and after deciding we were going to visit Beijing and Shanghai, we bought the DK Eyewitness Travel Guide: Beijing & Shanghai, which we recommend. We often use DK Travel's travel guides because we like the way they are organized. It was after reading the guide that we decided to add Suzhou to our trip.
Visa
You need a visa that has to be obtained prior to arrival since there are no on-arrival visas in China. You will need a valid passport (6 months valid after the end of your trip), proof of entry and exit from the country as well as accommodation and go to the Chinese Embassy to apply for the visa. You can find all the necessary information on the website of the Chinese Embassy in Portugal. Outside of Portugal, you must contact the Embassy of China in your country.
Transportation in China
Our choice to travel between Beijing and Shanghai was an internal flight from China Eastern and between Shanghai and Suzhou the train. Both trips went smoothly. In China, you should always have your passport with you as it is necessary to enter certain parts of the cities (in Beijing you need a passport to visit Tian'anmen Square and the Forbidden City) and it is imperative to buy train tickets.
In the cities, you can use the taxi, the bus or the subway. Using the subway, both in Beijing and Shanghai is fast and convenient besides being very cheap. You can buy a subway card that works with a deposit and you can recharge it as you go. At the end of your trip, when you return the card, you will have your deposit back (CNY20).
In Shanghai, we also used the Maglev, a magnetic levitation train that makes the 30 km between the airport and the city in just 8 minutes.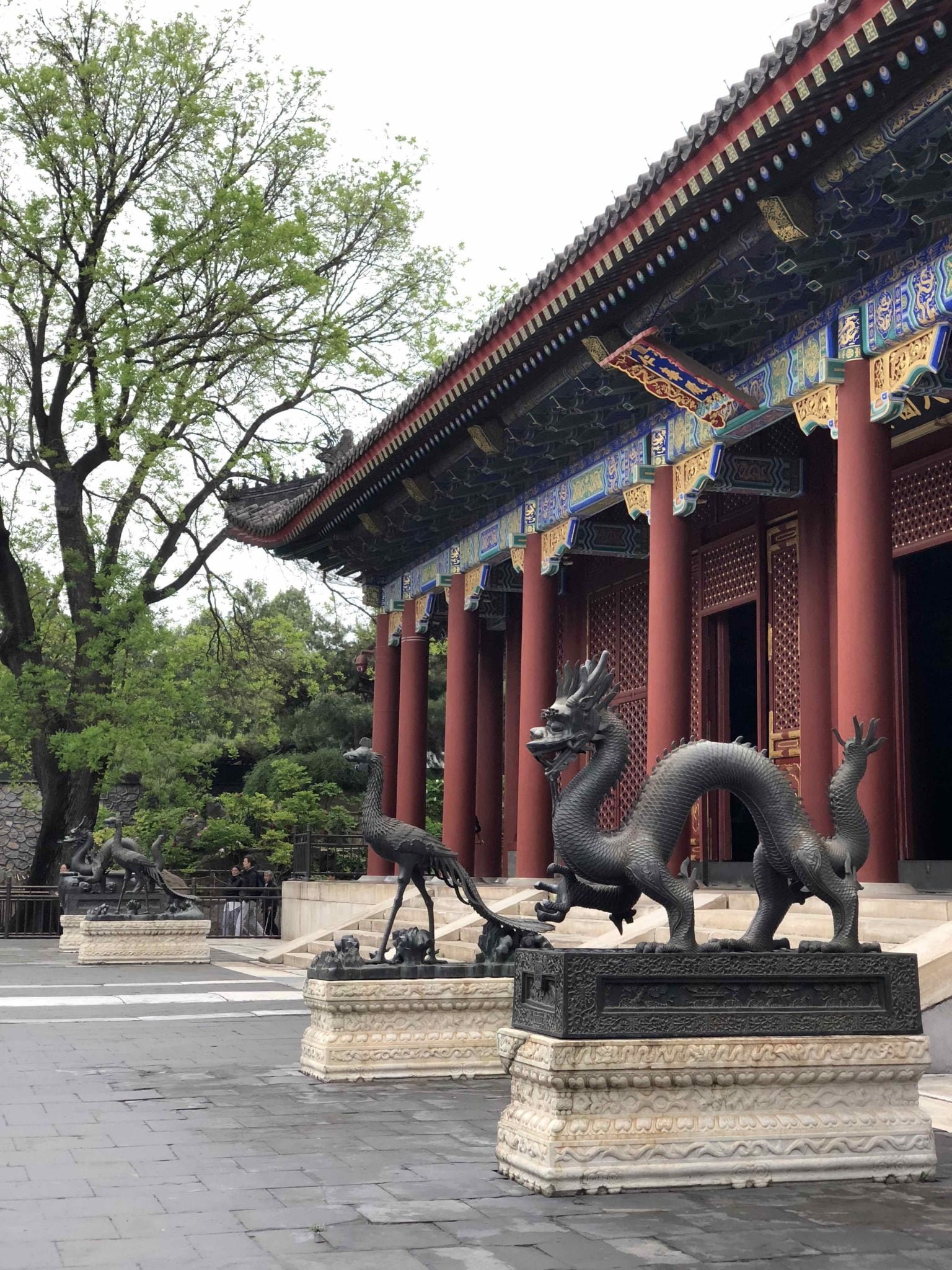 When to visit China
The size of China means that, at the same time of the year, the weather conditions are very different from zone to zone. We visited China in late April and the weather was great for traveling. Overall, the best times to visit China are Spring (March to May) and Autumn (September to November).
When possible it is advisable not to visit China on national holidays. Many restaurants, shops, and attractions close and the number of Chinese locals traveling increases greatly. The most important holiday is the Chinese New Year and at this time millions of Chinese take this opportunity to travel. Usually, this holiday runs between the end of January and the beginning of February. Golden Week (October 1-7) is the second most important holiday for the Chinese. At these holidays, in addition to the increase in tourists, the prices of travel and accommodation skyrockets.
General tips
Health
The only mandatory immunization to visit China is the yellow fever vaccine if arriving from an endemic country. There are recommended immunizations and malaria prophylaxis may be required depending on the length of your stay in the country and the areas you are going to visit. Thus, it is advisable to make an appointment with a travel medicine specialist, 6 to 4 weeks before the trip.
Tap water
One should take some care with water in China. It is advisable to always use bottled or previously boiled water. In the hotels we stayed in we were provided with bottles every day and in supermarkets the water is cheap.
Pollution
It is important to pay attention to the warnings of atmospheric pollution. We did not feel the need to wear masks but in Shanghai and Suzhou, we felt the air pollution a lot.
Security
The whole time we were in China, we felt that it was a very safe country. However, Beijing and Shanghai are huge cities with millions of people and as such, it is advisable to take the usual safety measures while traveling.
Travel insurance
Arranging travel insurance before you leave will help you if you have a problem during your trip: cancellations, delays, robberies or medical emergencies. Usually, it is only when it is necessary that we understand the need for travel insurance. We always recommend World Nomads or Iati travel insurance as they are the most comprehensive and have the best offers.
Internet
The "Great Firewall of China" blocks most of the websites we are used to like google, facebook, instagram, youtube or twitter. Before leaving for China it is advisable to install a VPN so that you can access these sites normally. Most free VPNs do not work well in China. We used Express VPN which has a 30-day refund policy and we had no problem using the internet.
Language
English is not yet widespread in China. Using google translate can help you in the most complicated situations. This was the only way we were able to recover the deposit of our subway card in Shanghai.
Subway Apps
Subway apps in Beijing and Shanghai are great for organizing your city trips. They work offline and you get to know how long the trip is, the price and the station to change lines, if necessary.
Taxis
Traveling by taxi is cheap but most drivers do not speak or understand English. It may be helpful to bring a hotel card with you with the address and ask at the reception to write the address of the place where you want to go in Chinese before you take a taxi.
LBGT Traveling
China is still a highly conventional society and the homosexual lifestyle is still a sensitive issue. However, cities like Beijing and Shanghai are becoming more open and tolerant. On our trip, we did not feel any hindrance from the people we interacted with.
---
China is a great country to travel on a budget. The cultural differences and the history of the country are, in themselves, sufficient reasons to visit the country. But China is much more than that and we can not wait to go back and get to know more about this fascinating country.
---
---